With a Physics exam this week combined with signing my life away I have had no time to start any new projects! Instead, I have been spending my spare moments packing. 16 Days until closing! Exciting and Scary at the same time.
Gracie helped by packing herself into a box. Take me with YOU!!!
Although I have had no time to physically do anything, my mind is spinning with ideas for our new home. Of course, these are all long terms goals, and we can only do a little bit at a time. I wanted to share some of my dream makeover ideas.
I love this dining room! I really like the shelving boxes. Hopefully my father-in-law will teach me how to make one somewhat similar to this one!
In the house that we are buying all the bedrooms are small and lack storage space. I love this bedroom and I think that this idea is amazing! Sherry and John created storage space by installing floor to ceiling closets (from ikea) and then inserting shelves into them. Then to dress up the room and hide the closets they hung curtains in front.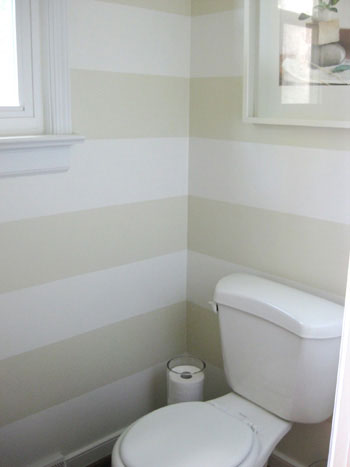 I think this striped bathroom is really unique and cute!

This looks tedious (and sounds tedious) but I love the look of the stenciling much better than wallpaper.

Finally this is what I really want to do in the dining room! I love the look of the banquet style sitting area. This picture was taken from
http://www.demotodream.com/2011/06/dream-a-little-dream/
thanks to John and Sherry's referral. This would also be cute in the kitchen but I don't think the kitchen would be big enough.

So there it is. My Dream Makeover. Wow. We've really got our work cut out for us! So exciting!!